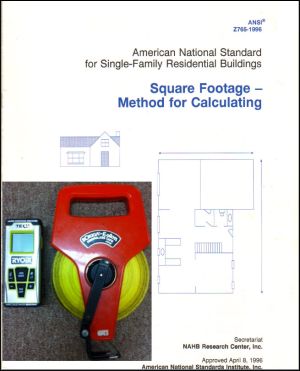 Home Measuring Service for Greater Baton Rouge Houses
Call 225-293-1500 To Order or For A Quote!
Most Homes Are At Or Under $100 Fee…
Veteran Baton Rouge Home Appraiser Bill Cobb offers House Measuring based on established and nationally recognized A.N.S.I. Standards.
Bill Cobb's Home Measured Sketches Include:
1. ) Living Area Size Measured Is Stated In Bold
2.) Total Square Feet Under Roof Is Stated In Bold
3. ) Exterior dimensions labeled
4.) Major Extras Square Foot Sizes Labled, ie., 2 Carport 420sf
5.)  Interior Walls Drawn
6.) Room Sizes Labeled So Potential Buyers Can Determine IF Their Furniture Will Fit Into A Room
7.) Room Sizes For Potential REALTOR Listings where MLS systems require room dimensions
8.) Sketch Image Provided Is Not Branded With Bill Cobb's Company Name, Sketch PDF Is Branded Because Appraisal Software Does Not Remove Company Name.
Sketch Examples
(NOTE: The sketch image examples  below are branded on purpose for online search google indexing)